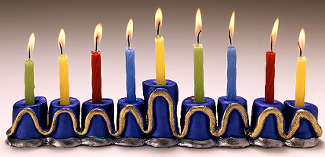 Fully lit Hanukkiot or Hanukkah Menorahs will glow brightly tonight. I love the last night of Hanukkah and seeing the entire Menorah lit up. It is so beautiful.
The holiday technically ends tomorrow at sundown since all of our holidays are sundown to sundown, sort of like Christmas which has an "eve" in it but, we don't light candles tomorrow. Tonight is the last time and then we put the menorah, the candles, the dreidels and any decorations away till next year.
We have our huge fun celebration with the kids tonight where I work which should be a ton of fun. My students can't wait.
I hope everyone learned a little something new about Hanukkah this year. Happy holidays. Enjoy your holiday what ever you celebrate and on with the knitting!!!